Another guest post from Joshua Gorenflo...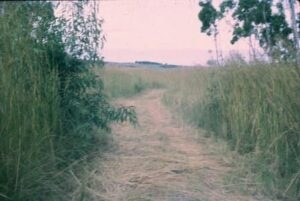 Elephant grass it's called. Taller than a really tall person, it towers above my head, sturdy and swaying in the temperamental breezes, blocking my peripheral. We make our way single-file through a narrow path in the brush, the midday sun brandishing me into an accidental redneck while we sweat through our Sunday best. If there weren't three Africans walking with me, I'd swear the Ghost and the Darkness watched through the thick grass, eyes and manes contrasting boldly against the wild serenity.
This is the Kingdom of Swaziland. Nothing is easy here.
We've been trekking for miles now – through fields, across streams, dodging bristles – and I don't think I've ever sweat this much in my life. But this is just another Sunday afternoon stroll back home for these Jesus followers. Up at day break to walk to church, worship with passion for hours in a tightly packed one-roomed building with no A/C, then hike home in the heat of the day, hearts full and only smiles on their lips. The effort doesn't phase them, not even in summer.
It's not just that it's relentlessly hot, either. Or that the college is miles from any town. Or that most of the students do not have cars. Or that they cycle through a rigorous schedule of school, work, and volunteering. Or that their meals are simple. Or that the internet wants to sit down for a "DTR" (Determine The Relationship) every other day. Or that the electricity sometimes has you guessing whether it will ever come out of hibernation.
No, that's just life. Those are daily realities, taken in stride and embraced with thanksgiving. It's just, I resent that as long as struggle and I have been together, she is only now introducing me to her extended family. Turns out, I'm not so great with names and faces.
Nothing is easy here. But everything is beautiful. And life is good.
You can nearly hold your breath as you drive across the entire country of Swaziland, but I swear the men and women here are transforming the great continent of Africa. My perception of struggle endows these people with a natural strength and discipline that leaves me in the dust. They know what they are fighting for. They recognize this as a time of training; they have dreams and plans for their home countries and communities and churches. They love Mother Africa. They care deeply for her wellbeing.
They are counselors and writers and preachers and farmers; businessmen and entrepreneurs and missionaries. They are all of them leaders. Game changers. Battle-hardened generals leading the charge against the dark forces of evil in our world.
The sun they claim as a metaphor. They will shine this brightly. They will endure this wrath.
The elephant grass is their home. They will grow this tall. They will spread this prominently.
The Ghost and the Darkness are their spirits. They will roar this loudly. They will fight this fiercely.
Nothing is easy here. But I would stay in a heartbeat.
Not just because the land and people are beautiful. Not just because she is peaceful and her churches passionate. Not just because the struggle shapes me into a creditable picture of Jesus. Not just because I love these brothers and sisters. Not just because I want to be like them and share life with them. Not even because of the elephant grass and the inescapable heat and the long summer storms stretching across the great African expanse.
Mostly because this is where I see heaven meeting earth
and it leaves me in awe.
---
Joshua and Jenny Gorenflo are visiting African Christian College for six weeks and we're keeping them busy at work in many ways. This post by Joshua is part of a series where they will be sharing their experience on campus.
Joshua is an adventurer in search of beautiful stories to share. He seeks a more generous view of the world and contributes to that goodness in whatever way possible. He is a wordsmith at gotkingdom.blogspot.com and is training to be an Aikido master. Follow him on Twitter @JoshuaGorenflo.